The Ukulele Band
 for any party, any place, any time, any where….
"I would sooner wet my pants than miss this band" Cellar bar "I don't usually like music  but I loved these guys" 50th party "What you guys do is more than amazing" someone somewhere "I've never seen my grandma dancing before tonight" A Grandson Booking Enquiries

Playing songs from throughout the ages on their Ukuleles, the Mother Ukers are a three piece Ukulele band based in Bournemouth, England. Top entertainment available for Festivals, Bars, Clubs, Parties, Weddings or just for the hell of it. The Band take on modern day classics  with their ukuleles and forge them into timeless wonders of a bygone era with the power of 'Ukular Fusion' Warping time and Space… The Mother Ukers are 'The Ukulele Band'
DOWNLOAD OUR MUSIC
GET UKULAR FUSION
ON ITUNES
The Mother Ukers are a Ukulele band performing covers and original material for your pleasure. Using ukuleles of all shapes and sizes the Mother Ukers take you on a musical journey through time and space. Mixing up sounds captured in the minds of mortals from over a hundred years to create their unique 'Ukular Fusion'. With songs & flavours of Modern pop, Punk, Classic rock, the Swinging 60s, Fabulous 50s blended together and marinaded with the sound and rhythms of the roaring 20s and seasoned with a touch of the blues in a swamp grass melody. The Mother Ukers unleash the power of their humble little four string ukes and guarantee to tickle your ears, kiss your soul & get them feet a tapping!

Last weekend The Fiveways rocked, Jurassic Fields Music Festival shone and Grooves was fun despite the clouds... thanks loads to all those who came and made playing so much fun. We like this little quote from Bridport & Lyme Regis News about our performance at...
read more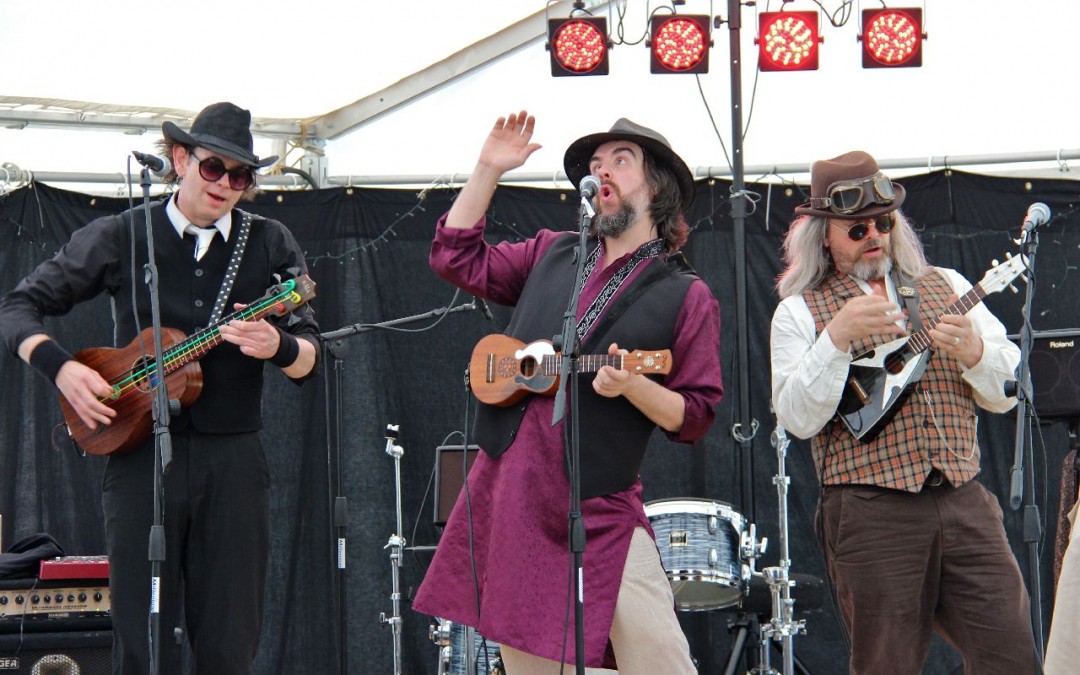 July is upon us: sunshine & thunder, pies & cider, and a beautiful heap of outdoor festivals to keep any music lover perfectly content and royally entertained... First up for us this weekend is a Friday visit to The Fiveways in Charminster. Our debut there a...
read more
Saturday 22nd March we are off to the Compasses Inn at Damerham near Fordenbridge. A night of  Ukular Fusion on the edge of the New Forest. A lovely place indeed with some great beers on offer. Come along and sample a few as we entertain with our Ukuleles.
We have been invited to provide some Ukular Fusion at The Kings Arms in Blandford on Thursday 13th  February. It will be our first time in the Kings Arms, which we are told is another great music venue in the town, so we hope to make some new friends. Do come along...